For an old-school, back to nature, boutique camping experience, loaded with luxury, style and comfort you need look no further than KushtiCamp @ Bowden.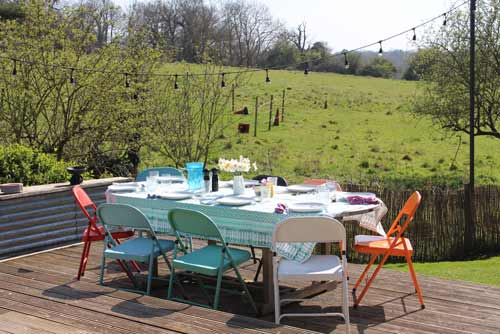 Designed and built here at Bowden near Pangbourne in Berkshire, all four cabins are unique. They answer all your staycation desires in your favourite boutique camping structures, forming the small private camp of exclusive boutique camping accommodation for up to 8 people. You will return to the wild, but be wonderfully catered to; you will relive old-school camping, but have every grown up comfort laid on; you will be safe in your Kushti Camp bubble, but connected to the world in glorious outdoor grandeur.
Luxuriously off-grid boutique camping
Located up the hill from the riverside town of Pangbourne in Berkshire
Just one hour west of London
Exclusive site hire for eight people
Large heated outdoor pool
Kushti Camp @ Bowden is centred around a remake of a beautiful, steel-clad, mid-century styled Nissen hut. Shiny and individual in style and shape, it has all the mid-century charm of the original iconic curved structure, but it's timber-lined amber interior is fully insulated, it is connected to mains power, and also has a wonderful large deck area to the rear which takes in a beautiful view to the Area of Outstanding Natural Beauty in the valley behind.
Alongside this larger cabin are two king-size Kushti Cabins, and a further Nissen-hut styled twin cabin nestled side by side in a copse. Also curved in shape, the large wagon-like structures, solidly made from timber and steel, sit comfortably amongst the trees, with wooden porches on the Kushtis and wooden steps up to the twin cabin. Like the main cabin, they are fully furnished with beautiful 100% cotton linen and feather duvets and pillows, and mains power.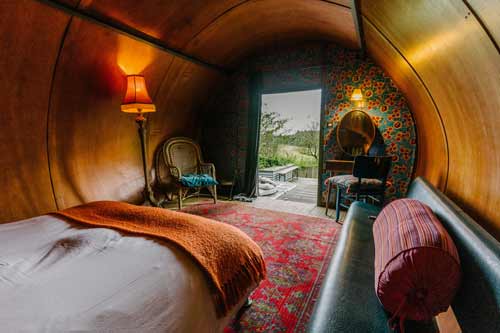 Adding glamour to your off-grid camping experience, there is also a large, south facing heated outdoor pool available for your use when the sun beats down. The cool, large and well equipped field-kitchen provides a fridge, small oven and grill, gas hobs, worktops and storage, as well as a seating area under cover. Adjacent to the kitchen shelter is the outdoor shower 'room' with basin, hooks and mirror. And set alone in the thick of the copse is an eco-friendly composting loo and urinal. The exclusive hire of the whole site ensures that all washing and loo facilities remain as clean and safe as you find them for the duration of your stay - thorough cleaning is carried out between each booking for all customer's safety and hygiene - but no-one else uses these facilities whilst you are here. For your entertainment there is a fun table football shelter, the addictive ring-on-a-string game, as well as a ping-pong table and playing cards & board games. Finally, there is a BBQ for you to use, as well as a fire pit which comes with a barrow of free logs for your stay, as well as kindling, matches and firelighters.
KushtiCamp has one pure intention in mind: to provide an old-school, off-grid, luxurious and comfortable experience of exclusive camping - in short, a well curated reaction to every mediocre camping norm.
For much more detail about the camp and its facilities click below. You will be taken to the Kushti Camp listing on Canopy & Stars. If you'd rather book directly or discuss availability email This email address is being protected from spambots. You need JavaScript enabled to view it.